Hey Y'all!
Do you have Distress Crayons sitting around? If you love all things Distress, I bet you do! I love the look of Distress Crayons but I've always felt limited when working with them. The reason being that I don't truly understand them. Well I didn't, now that I've done some digging I think I get them. There is nothing like a new product being released to get me thinking about what I already have and if I need it.
Here is what I knew about Distress Crayons… in the hands of Tim Holtz they are flipping amazing! He makes them dance. But in my hands they fall short. Why? Well that was what I wanted to know. And today's post will be about what I think the reason were and what I'm doing to love this product.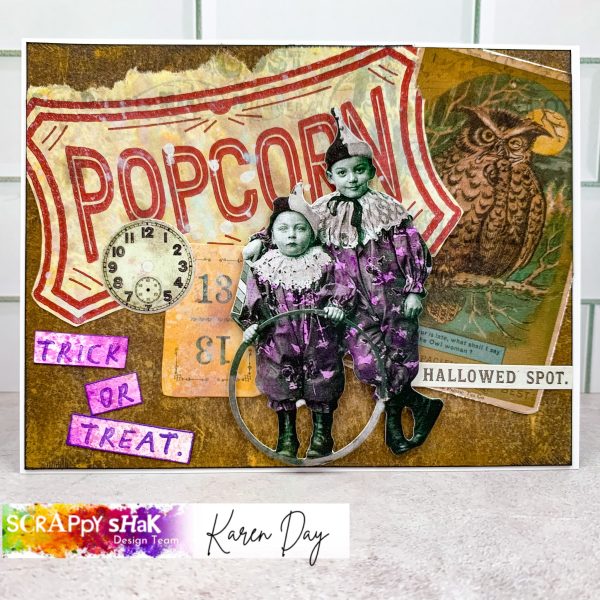 This card is an example of how I tend to use Distress Crayons. I place them on to a non porous surface (like a clear stamping block) and I use a paint brush or water painter to add color to something. In this card it's the Idea-ology paper dolls. These have a coating on the surface and it takes some practice to get the coloring down. BUT I love the results. I use this same idea to color stamped images.
This is an example of using the crayons to watercolor a stamped image.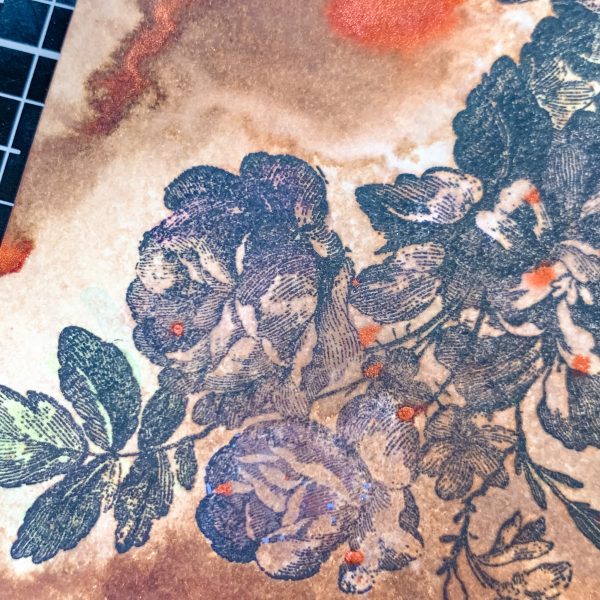 For this card front, I stamped the image in Archival Ink (Black Soot) and then dried it with my heat tool (not embossing gun). I wanted to make sure the ink was completely dry before I started to watercolor. Once cool fact is that Spray Stains and crayons resist each other. That is if you spray the stain and don't swipe or touch it the crayon will not not react to the "water". It actually resists the color of the Distress Spray Stain.  Here is the completed Card.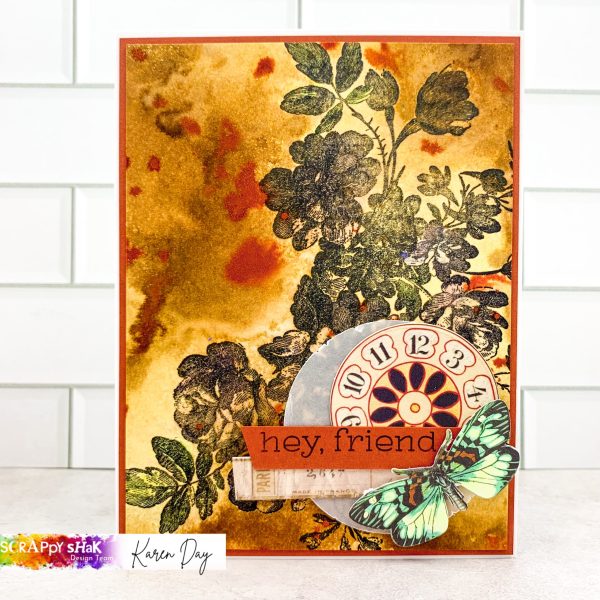 I layered some Idea-ology and a stamped greeting to finish it off. One of my favorite parts is that lighter area around the flowers. I used Tumbled Glass crayon to create an area of resist. The spray stains are Frayed Burlap and Vintage Photo. Then I flicked some of the new mica stain in Burning Ember.
Ok the last thing that I want to dig into is using crayon with a medium like Distress Collage medium or clear gesso. Both of these mediums will seal the surface making it non porous. This opens up the opportunity to create a barrier of sorts between one layer and the next. One of my questions was could I use the crayons to color an area of a stamped image, layer collage medium over that image and do a smudge technique with the crayons on top. My results were mixed. I want to say yes you can BUT (and it's a big one) the crayons will react to the wetness of the medium. I made two different cards as a trial and only one area seemed to respond to the wetness of the collage medium.  My first try was with a pumpkin from the Pumpkin Head set from Stampers Anonymous.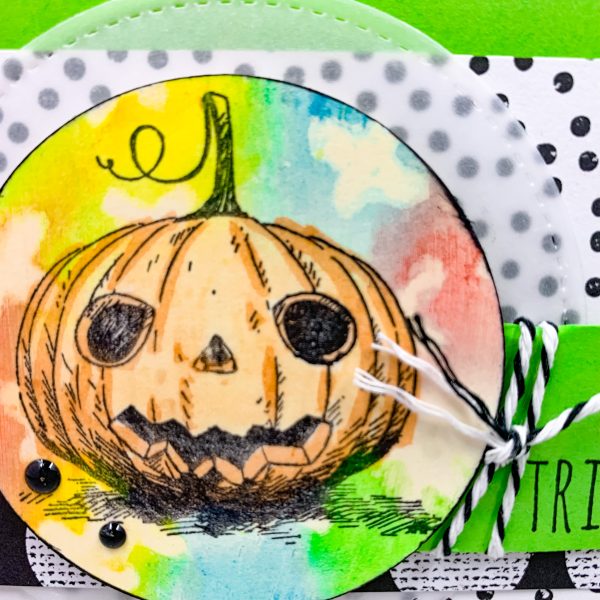 This image is a close up of the finished card. You can see the watercolored area on the pumpkin and then the smooshed crayon technique that finished off the piece.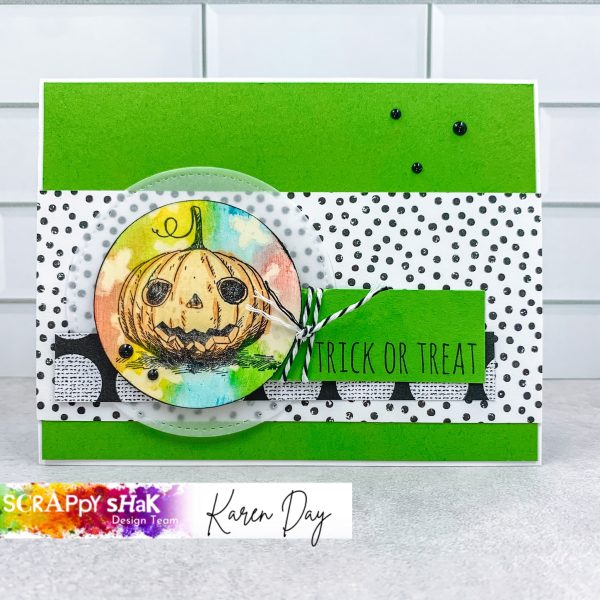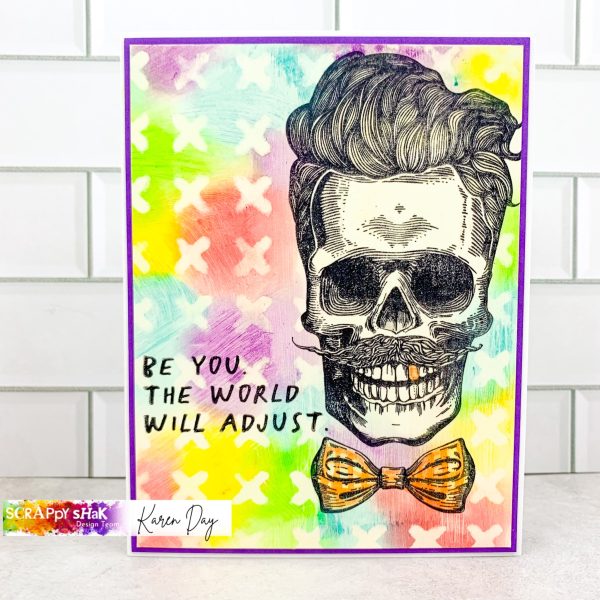 This card is where I saw my mixed results. When I applied the collage medium the bow tie "bleed" a little. No other part did. Not the gold tooth. Not the shading. Not the hair. Just a little orange from the bow tie. That said, the orange was the last color I painted before adding the collage medium and it might not have been crispy dry.
But this is when the fun started to happen. After I applied my collage medium, I added crayons and smudged them. Once the whole surface was smudged, I took a stencil (TM160 Markings) and "erased" a section. Crayons are water reactive so to erase I used a baby wipe and rubbed out the areas through the stencil. I LOVE how this card turned out!!!
I think sometimes we forget how to use what we have. I knew all of these little tips and tricks but I really wasn't using them. And then I saw that watercolor pencils were coming. I needed to decide if I wanted to purchase them. My answer to that dilemma was to get out my crayons and push the limitations. My final decision was to purchase the watercolor pencils. I can't wait for them to arrive and compare with what I have done here.
Come back and see what I think about the watercolor pencils. I'm super excited to test them out compared to the crayons.