Hey y'all!
Today the team over at The Spot are all CASING the fabulous Dena Renko! She blogs and has a YouTube channel under the name The Creativity Cave. Now in true Dena style… get your stampin' lips on and let's craft!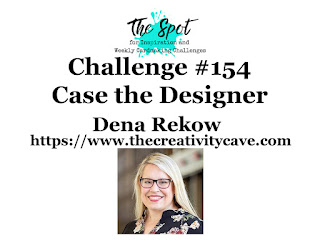 Dena has been crafting and blogging for a while now and has LOTS of great projects to pick from. I went WAY back to 2014 for my card. I had saved it years ago and knew it was the card I wanted to CASE. Let's take a look at the original.
Here is what jumped out at me. I love the black and white pattern paper as an anchor for the flower image. But the deal sealer for me was the dots in the background. I believe it was an embossing folder, but so easy to recreate with a circle punch! Now let's take a look at my version.
Details for today's card
I pulled the dot idea, the black and white paper, AND the Coastal Cabana and Bermuda Bay colors from the flower. I decided to punch up the circle idea by using a larger circle punch and using a darker paper placed on the lighter. I LOVE how beachy and summery this card is! That super cute pineapple is from the Cute Fruit set. It's the set that has all the cute faces you could add to the fruit. I hat it on my desk to use the faces with the new Ice Cream set. I knew that the pineapples would fit the feel of the card I wanted to make.
I hope that you have been inspired, I know I was! Click on the image below and check out what the rest of the team created!
Are you in the United States? I would LOVE to be your Stampin'Up! Demonstrator!
If you are in the United States and not currently working with a Stampin' Up! Demonstrator, you can order supplies in my online store, here.