Hey y'all!
Today we are throwing down a color challenge over at The Spot! My exact words when I saw this color combo was "this is going to be interesting".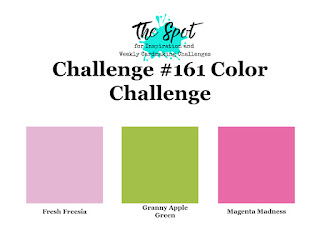 Now y'all Magenta Madness and Grannie Apple Green are just life! They are happy and cheery and everything that gives me joy. Fresh Freesia, um- how do I say this, it's a little bit of a weird color. It's purple for sure but it's also not. I haven't figured it out yet. So when I saw it paired with the live giving color combo of Magenta Madness and Grannie Apple Green, I just didn't know.
Here is my card and I got to say that I'm loving the Fresh Freesia in this card! I did add the black and white stripe to help break the color combination.
Details for today's card
Let's talk about this card. For the Magenta Madness part, I used new Animal Print Embossing Folder to add texture. Not to mention that I wanted to try out this new folder. The Grannie Apple Green part is embossed with the Tasteful Textile 3D folder. I love this folder, it was my second favorite to the newly retired Subtle folder (sniff sniff, I miss that one). The circle is the largest of the Layering Circles dies. I used the Hand Penned Petals stamp set and the matching dies on this car. I used Stampin' Blends in the colors of our challenge to color my flowers. The thanks is stamped in Magenta Madness. I added a line around the circle die with the Fresh Freesia Stampin' Marker. I did not add any bling to this card. I wasn't sure how it would work with all the different textures.
My goal today is to get you to play along with out challenge! Are you ready?? Then let's go!! All the details on how to be part of the challenge are over at The Spot Creative Challenge. When you post your creation on Social Media add the hashtag #alittlekinderstamps so that I can find your creation!
See you next week for another great challenge!
Products Used:
Product List
Are you in the United States? I would LOVE to be your Stampin'Up! Demonstrator!
If you are in the United States and not currently working with a Stampin' Up! Demonstrator, you can order supplies in my online store, here.