Hey Friends!
OMG! Do you know about Traveler's Notebooks or Creative Listing? This were both new to me. During the Vicki Boutin Evergreen and Holly weekend my crafty friend Robin told me about a gal named Layle Koncar. And my world was rocked!! I love memory keeping but I didn't love how I was doing it.  If you didn't know I had recently picked up where I had left off over 10 years ago.  To be honest it was and is very overwhelming. The system that I had been using just isn't fitting me anymore. I think it was a Becky Higgins way of organizing pages into different albums like places we've been or the people we love. Then each family member had their own album. I still have all my printed photos stores that way and I'll leave it. I seem to think in that way… people, places, or vacations. But the albums themselves had some damage from being in storage and I have been repairing pages.
So along comes this idea of using a Traveler's Notebook for memory keeping mixed with some creative lists and I was instantly intrigued. I emailed Layle from her website- www.laylebymail.com and asked where to start. She has a great series on YouTube that is basically a set of free classes. I've watched them all! With out big December trip I decided that this would be a great way to document something that might not have as many photos as trips from the past. I started by setting up the actual traveler's notebook. I decided to go with what is called a standard wide or cahier. Let me stop here and say that what I started with is actually the insert pages. The "book" part is separate. I was able to get a set of 3 inserts in the cahier size from Target. The paper is a little thin but I wasn't 100% convinced that I would like this kind of memory keeping.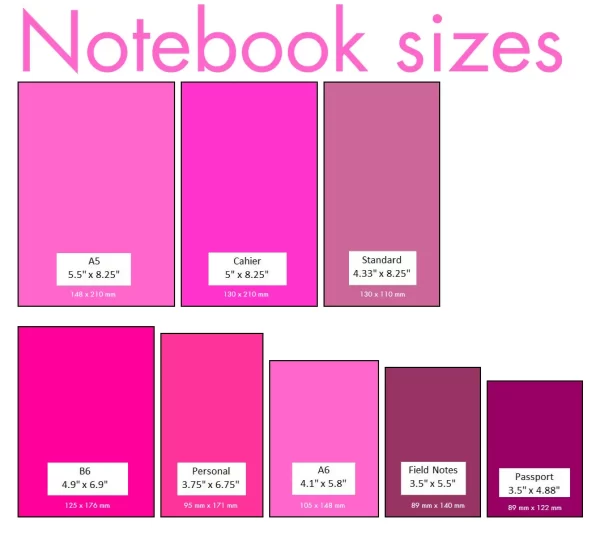 What I've learned is that most people use either the standard or the cahier (standard wide) as their base for the creative type memory keeping. But there are lots of other sizes too. I think I would like the A5 as well. So a Traveler's Notebook is really 2 parts: the inserts and the cover. The inserts are not horribly expensive. I want to say the 3 were around $12. I figured that wasn't a horrible price and if I didn't like it I wasn't out much. Well, after this trip I'm in LOVE! Let's look at what I've done.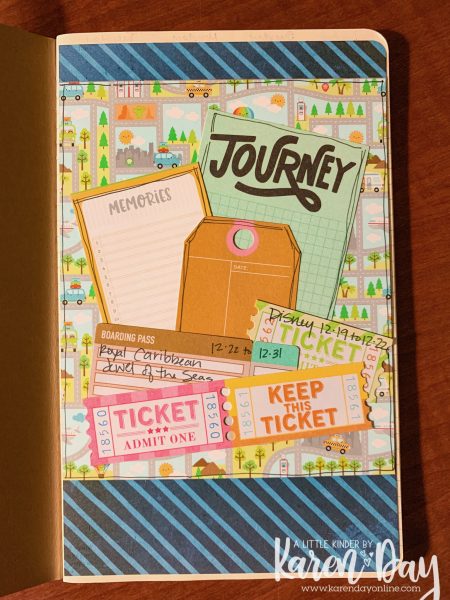 This is what I decided to do. I have used small sticky notes to layout this insert into two sections… our Disney section and the Cruise section. My pages will be a combination of lists and memory keeping. I also decided to include this two page spread.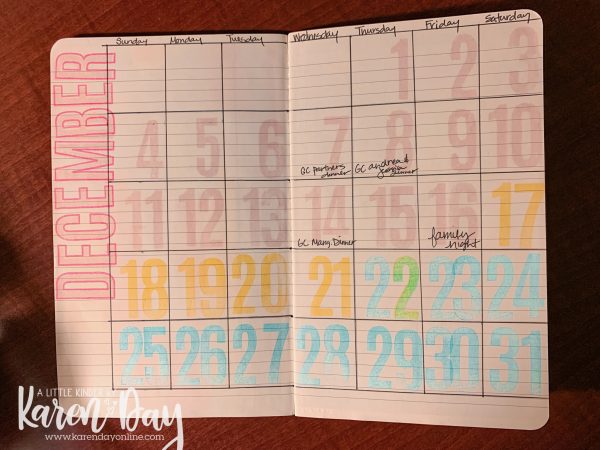 I wanted to include a calendar in my book. December is always so full of activities. I stamped the dates in different colors on purpose. The first set is our at home dates. The yellow are Disney days and the blue are cruise days. Since this was a trip of a lifetime I really wanted to have something to remember the trip by almost as soon as we started to drive home. I have some supplies cut and ready, I took them with me but never really found the time to do anything. I think this was because I didn't have the photos to go with the pages.
Here is an example of how I want to include lists or creative listing into this book.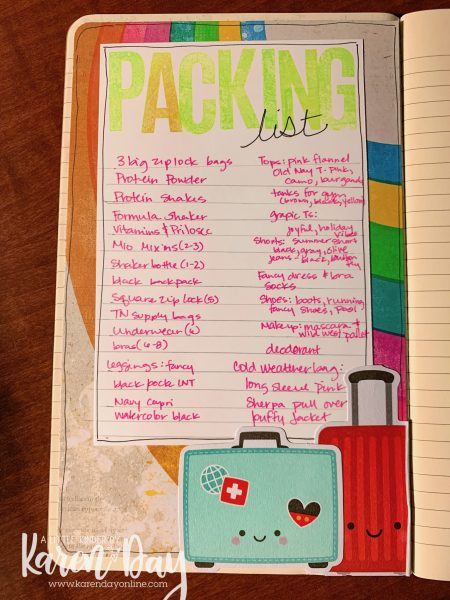 This was my packing list. The facing page will hold 2 photos. One will be our bags all stacked up the night before we left and the car the morning we left. Setting up the book some before we left and then moving sticky notes as the trip went on, really helped me to get all the pictures that I would need or want. I plan to add some lists through out the book. So far I know I will have a Karen's top 5 Disney memories and a Thomas' Top 5 Disney memories list. I will probably do the same for the cruise part. I will do a walk through when the album is finished. For now, I can't wait to add TN (traveler's notebooks) to my creative life!
I plan to have one that is my everyday planner added to some lists and memory keeping in one TN. Kind of a cross over of a bullet journal/ planner. But better!
Tell me in the comments… do you creatively list or use a Traveler's Notebook type memory keeping? I'd love to know!
Until next time!
Karen