Hey friends!!
Happy Tuesday… I hope all is well in your corner of the world. Today I'm sharing one of my favorite stamping tips with you on YouTube. It's all about swatching your inks. Why swatch? Simple… you can't trust the printed labels! Yep. Sad but true. A swatch will tell you exactly how the ink is going to react on the paper you are using. Watercolor paper will be different from Tim Holts Distress cardstock and that will be different from Neenah Solar White. Every paper will accept the ink differently. Do you have to swatch every paper you own? Heck no! Just the one you use most. For me that is Stampin' Up! Basic White. I got hooked on it when I was a demo for them. I love the weight, the feel, and the way the paper accepts ink. But you might love a different paper, so that is the one you need to swatch.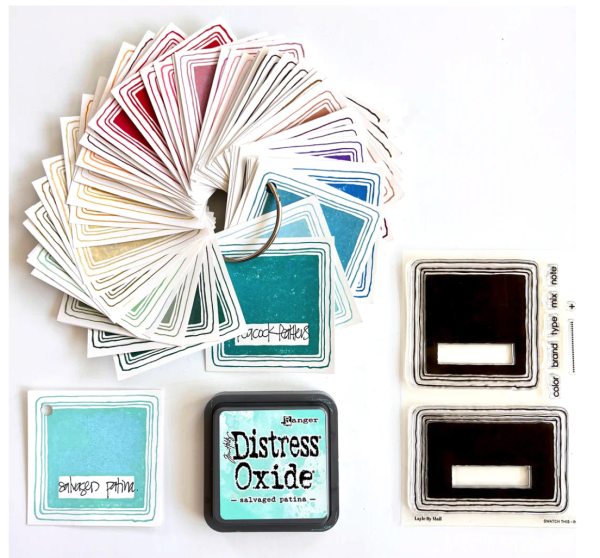 For my swatching, I use the Layle by Mail Swatch this Ink stamp set. There are two sizes, square or rectangle, that you can choose from. The picture above is from Layle's website but very much matches my ink swatches. I do add above the name in the white area the brand. So my regular Distress inks will say Distress, while my Oxides will say Distress Oxide with the color name below that.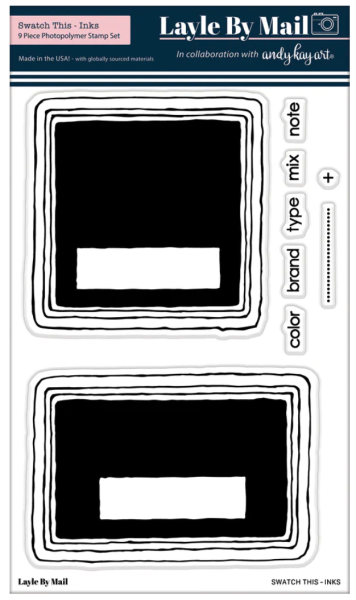 Here is a closer look at the stamps. I do like that you could add the words- color or band to the bottom of the stamped image or the back. I keep my swatches on 2″ rings on a hook above my desk. It makes color matching so much easier!
Here is the video… leave me a comment on the video telling me if you swatch or not.
Products Used:
Papers: Stampin' Up Basic White
Inks: Tim Holtz Distress and Distress Oxide (https://shrsl.com/3x1xs) or (https://tinyurl.com/2p9xkyvr)
Stamps: https://laylebymail.com/collections/stamps-2/products/pre-order-swatch-this-inks
Favorite Adhesives:
Scrappy Shak (https://tinyurl.com/5b92675k)
Scrapbook.com (https://shrsl.com/3x1xw0
You can find me at
www.karendayonline.com
Facebook Page-https://bit.ly/alittlekinderFB
https://www.youtube.com/user/alittlekinder
IG: @alittlekinder
This video is NOT sponsored or paid. Compensated affiliate links used when possible (at no additional cost to you). The opinions of all products are my honest thoughts.