Hey y'all!!
Today I'm bringing you 3 different tags. Recently I've been feeling making tags. I love the smaller size and the fact that they are narrow. This changes how you plan… and if you want to stay within the shape or have items hanging off. I love the idea of things extending out from the tag, it gives it a unique shape. The first tag is one that I used the Sizzix shaker panels on. I picked the medium sized square. Let's take a look…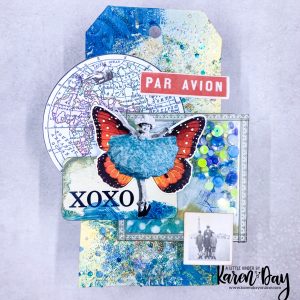 The tag itself was distressed using spray stains and oxide spray stains over crackle paste. To start I added the crackle paste to a tag I die cut from Distress White Heavy Stock paper. Then I used the sprays, and added some Ranger Stickles Glitter Gel in 3 colors (Moon Dust, Sunshine, and Galaxy). My last step was to add a little Distress Paint in Uncharted Mariner.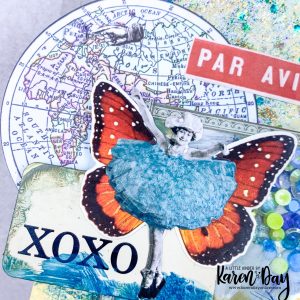 I added some paint to the Paper doll (Uncharted Mariner). I also added paint to the Flashcard (Uncharted Mariner, Picket Fence, and Walnut Stain). This Shaker Panel I covered the red line tape with the Tim Holtz design tape. It's the perfect width. To finish off this tag I added shakie bits to the shaker panel and layered LOTS of Tim Holtz idea-ology.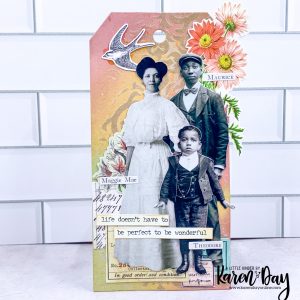 Am I the only one who creates stories for their tags? Gosh I hope not. Let me introduce to you Maggie May, Maurice, and their son Theo. They have been on my desk calling for their story to be told. It's a story of love and struggle but in the end they had a wonderful life!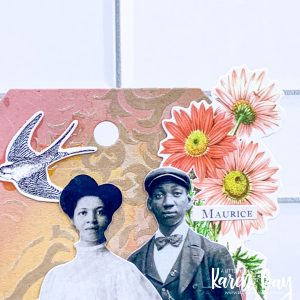 The tag is another one from one of my play sessions with Distress Spray Stains and pastes. This is a die cut tag from the kraft Distress paper. I used a TON of Idea-ology on it. I love how all the pieces came together to tell their love story!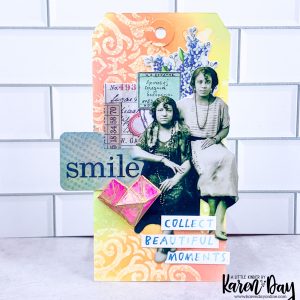 Now let's talk about these sisters. Their story is a hard one. They were separated as children during the great depression. They each moved to a different relative's house. They missed each other deeply! But it's the great depression y'all and there was not calling or even money for letters. Later in life, as the depression ends and WWII begins, the sisters are reunited. Their love for each other is still strong and they spend the rest of their days collecting those beautiful and precious moments!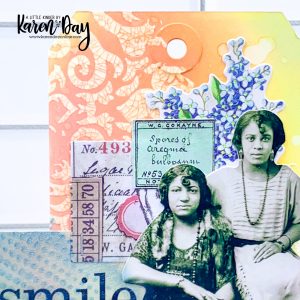 There is so much mixed media yumminess in this tag! Distress Inks and sprays, pastes, and Foundry Wax. Idea-ology products are EVERYWHERE! And Uncharted Mariner makes an appearance in the words at the bottom of the tag.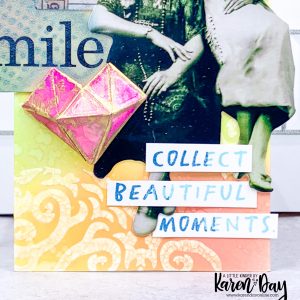 I hope that you have enjoyed not on the projects but the stories behind them. I love the stories as much as I do the creating. I think that is what inspires me… the stories! Yes they are made up, but these paper dolls speak to me. They get pulled out of the package because of the story they can tell.
Take a minute today and be inspired by a paper doll! You never know where they will take you! I hope that you have been inspired today as well and until next time… make the world a little kinder, one card at a time!
Karen