Today I'm brining you the first official tag! Today's  word was BATS. Y'all!! I love the transparency bat wings. They are STUNNING! I love how they bring a different texture to any project.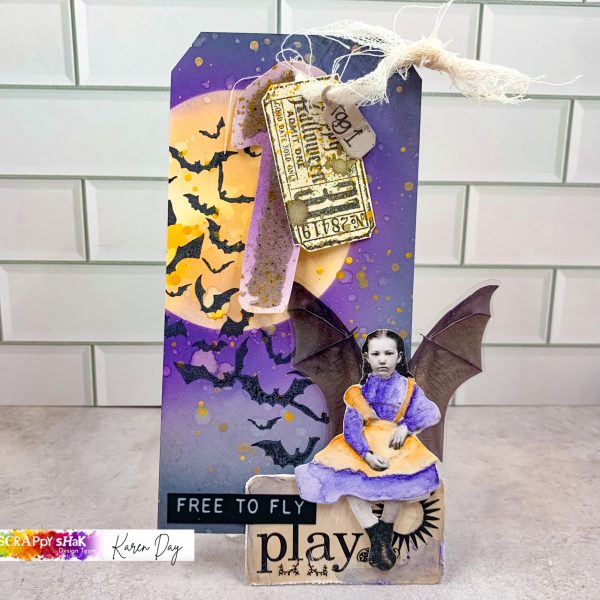 Let's dive into today's make. I did make a walkthrough video that I will like at the end of this post. The tag base is one of the Distress Tags #8. On this tag base I ink blended Distress Oxide inks. Then I flicked Mica spray stains over the blended background. I stamped the bats from Unraveled in Distress Archival Black Soot ink. I used the Misti and my PinkFresh stamp tool to stamp them several times to get a good dark black.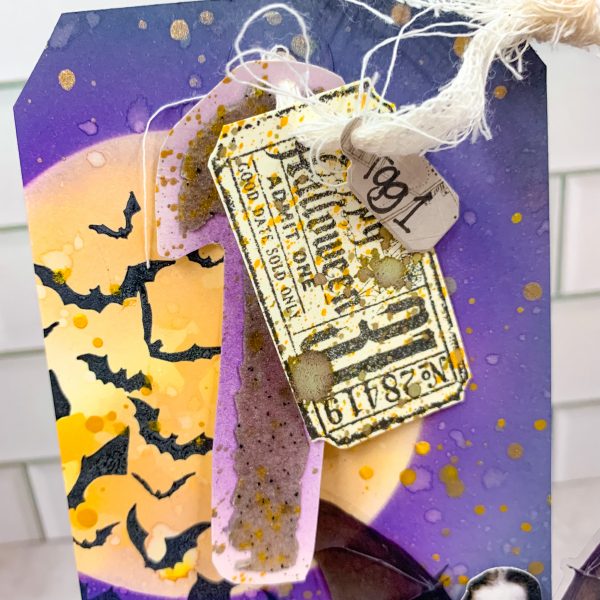 Y'all I was one of those crafters who said pass to the moon masks last year. My thought was that I could create the same look with a circle die cut that I used as a mask. Well friends I was wrong (well you can make a circle shape moon but the detail the moon mask gives is incredible). I started by placing the solid moon mask down and inking the night sky part of my tag. Then I moved the solid circle and replaced it with the "spots" one. Using Fossilized Amber Distress Oxide ink on the open sections I added color to the moon. I then went over that section with Antique Linen to blend out the edges. This softened up my moon. I love Harvest Moon Mica Spray Stain. The color is perfect for adding stars to a night sky. I like to take the sprayer out of the bottle and "flick" it over my project. This gives me the drops that I love rather than a spray. I covered the moon with the solid mask and flicked Decayed Mica Spray Stain over the night sky section of the tag.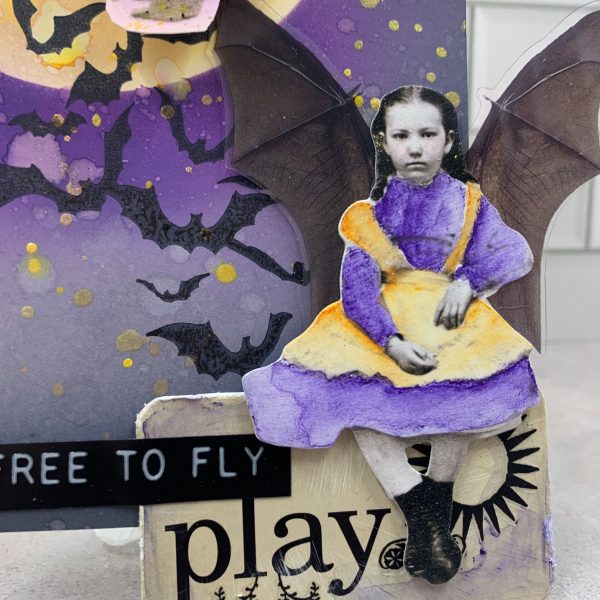 I recently learned a trick from JuicyChristians on IG that if you paint Clear Gesso over any glossy surface, like the paper dolls, then the watercolor pencils grab on and make it easier to color. I used my finger to paint the clear gesso on. After it dried, I used the watercolor pencils to "colorize" my girl. I added the bat wings to her and placed her on a word card that I added some rubs and watercolor pencil too.
And that is tag #1. Here is the YouTube walkthrough.