Happy Saturday!! I hope that you have had an amazing week. Are you ready for the weekend? I am ALWAYS ready for the weekend. Today I'm starting a new monthly series… Sketch Saturday. My plan is to take one Saturday a month and create a layout from a sketch. This month I'm going to be using a sketch from Scrapbook Generation. They have both for purchase and free sketches. I found them on Pintrest when I was looking for sketches for this series.
Here is my layout and the sketch: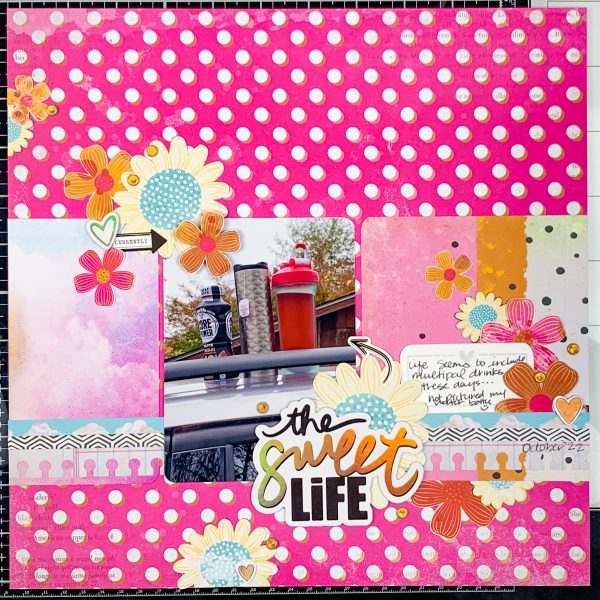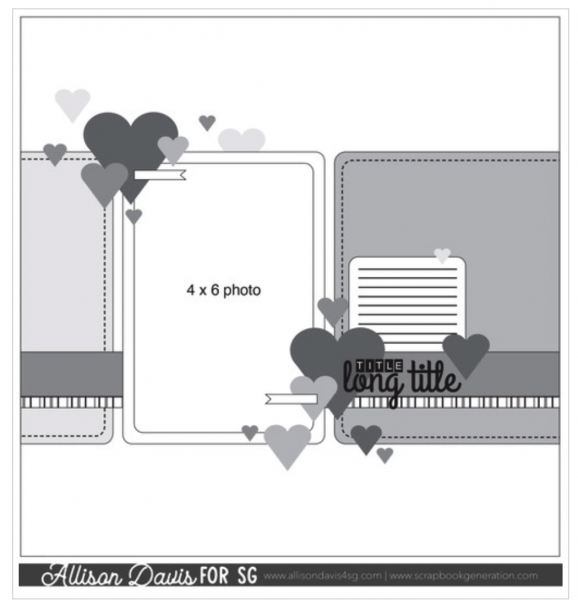 Details:
This is a 12×12 layout. I really stuck to the sketch for this layout. I loved the look of the sketch and the placement of the items. For my layout I changed the hearts to flowers. I did fussy cut those flowers from 2 different Vicki Boutin papers from the Sweet Rush collection. One thing I wanted to make sure that I shared is this… look at the packaging. I ended up using the background from the ephemera package as part of this layout. The scale of the "paper" was perfect! I used the branding strips from the top of the dot paper, it's the little clouds, a sticker, and a small snip of left over pattern paper to create the stripe across the bottom of the pattern paper areas.  For the paper on the right side of the photo, I used one of the folded notecards from the collection. Again the scale of this was a better fit for my page. The journaling block is a stamped image from Elle's Studio (see supplies below for link). I stamped it in Lost Shadow Distress Ink.
Supplies:
Sketch: Scrapbook Generation Sketch #26 by Allison Davis 
Paper: Sweet Rush Collection https://shrsl.com/3xt3h
Ink: Distress Lost Shadow https://shrsl.com/3xt3u
Embellishments: Dots https://shrsl.com/3xt3r
Adhesives: Scrappy Shak (https://tinyurl.com/5b92675k)
Scrapbook.com (https://shrsl.com/3x1xw0)
Here is the Process Video: