Hey friends! I am so glad you stopped by today. I'm sharing a mixed media layout that I made. I am loving how fun this layout was to make.  But more than that, I loved reliving this special day. Y'all I ziplined!!! After loosing close to 70 pounds I was finally able to do some of the things that I had only dreamed of doing. Going on a Zipline was one of those things. Now you should know that I am terrified of heights. I mean panic inducing, heart racing, not able to move fear. So you might be wondering why I would ever agree to get on a Zipline. I need you to know that I didn't agree, I am the one who booked this event. Yep this fear inducing activity was something I wanted to be able to do. See for many many years my weight was an issue. For health reasons I couldn't let this be a thing anymore so in 2022 I lost around 75 pounds. That weight loss meant that I was now in a place were I could do things that I never dreamed I could do. In honor of being able to do hard things, I set my fear aside and strapped into the harness.
Here is that layout…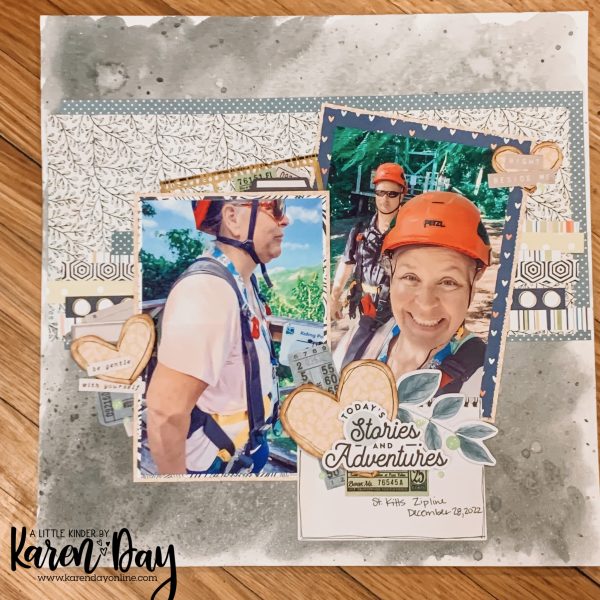 I decided to use Shimmerz Paint to make a mixed media background. I watercolored with the Coal Shimmerz paint and a large round brush. When the background dried, I splattered more Coal Shimmerz paint on top, along with my favorite black paint pen (the Liquitex Acrylic Marker in Carbon Black). Then I layered the larger pieces of pattern paper to make the back ground. I love the heart mat from the Simple Stories line. And I used a bunch of Vicki Boutin branding strips behind the photos. The rest came from the Not Just for Boys January Nostalgic kit. There is a process video over on the YouTubes (and linked below).
Thanks for joining me on this creative journey! I hope you enjoyed these projects and learned some new tips and tricks. Don't forget to check out both my Instagram and YouTube where you can like, comment, and subscribe for more crafty fun. And if you have any suggestions for future products to work with, projects to make, or techniques you want to see me blog or make videos about let me know in the comments below. Until next time, let us all be a little kinder!