Hey Y'all!
Happy March… Yesterday we our first round of potentially severe weather. Fortunately all is well but man did March come in like a lion! After historic 20 inch snows here, I didn't want to deal with tornadoes.
I want to pause for a second before I get to my project for today. If you have followed me for any period of time, you probably have heard me talk about mental health and how important it is to reach out and ask for help. You might even think I have it all together… but I don't. The last 2 weeks have been exceedingly hard for me. We are approaching 1 year since Covid shut down schools, 20 inches of snow brought more isolation, a busted pipe, and a heath scare were just too much. I shut down. I reached that place where I just couldn't. Nothing was bringing me joy, no new creations meant nothing to share here or on my Social Media. I became a turtle. I am so blessed to have a husband and circle of friends who can see through the mask. They saw me. They know me and they supported me while I figured it out. With the help of my amazing therapist this bought of depression or mood was very short lived. I feel blessed. And that is why I am including this story here. My blog hops bring in people from all over the world. And I'm here to tell you that you matter!! You are important, and beautiful, and a lot stronger than you ever imagined.
Today's card came from that place of supporting and being supported. This "Hey Chick" card is one of several I made to mail out. Just a simple "hey I'm here" kind of message. I challenge you to do the same. Reach out to that friend who has put off spending time with friends. Reach out to that family member who has had to quarantine.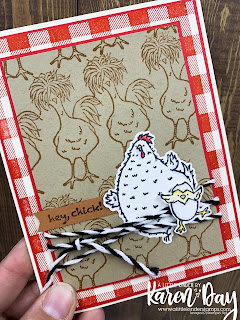 There is something that feels so comforting and "homey" about buffalo check! So that became the backdrop to my card.
Details for today's card
Let's dive in…
This card started with a Very Vanilla cardbase. I am using Poppy Parade and Crumb Cake as the major colors to this card with a little Cinnamon Cider thrown in. The chicks on the Crumb Cake piece are stamped in Cinnamon Cider, while the chicks that are die cut were stamped and colored on Basic White. I used the Buffalo Check stamp to stamp out the Poppy Parade layer and both stamped layers are matted in Poppy Parade. I used the Black and white ribbon from the Pet suite for this card.
Oh one thing I did was cut off the party hat on the little egg chick. If you didn't know that it was there, I really don't feel like you see where it was cut from.
I mean it's a little wonky but still super cute! I did make several of these cards to send out as happy mail. I hope that you have been inspired to make your own just because cards to send this week. If you do, please come back and comment that you sent happy mail! I'd love to know.
Now let's see what the rest of the amazing team did for our hop.
Are you in the United States? I would LOVE to be your Stampin'Up! Demonstrator!
If you are in the United States and not currently working with a Stampin' Up! Demonstrator, you can order supplies in my online store, here.