Hey Y'all!
I am so excited about today's blog hop! Today we are pairing some thing new with something that is returning in the New Annual Catalog. I decided to pair the new Pirates & Mermaids with the returning Friends are like Seashells.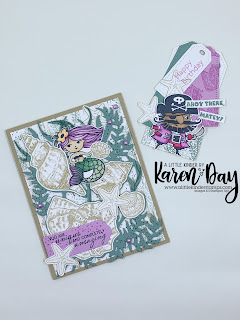 I made a card and tag set for this month's blog hop. Not a single photo that I took equaled the amazingness of the originals! There is SO much in this card. When I showed it to Thomas (aka the Hubs) he just looked at me. I was inspired by a card in the new catalog on page 27. There is just something about the Crumb Cake and Soft Succulent color combination with the pops of Fresh Freesia. This card is layer on layer on layer, and I patterned the tag after all the layers.
Let's dive into the details of these projects. Card first!
Details for today's card
I started with a base of Crumb Cake cardstock. I added a layer of Basic White that I stamped with the Birch background stamp in Sahara Sand with the little dots from Friends are Like Seashells set stamped in Soft Succulent. I die cut the large seaweed and shells from Soft Succulent. The shells were stamped in Sahara Sand. I decided to add 3 star fish images to the mix.
I love this mermaid from the Pirates and Mermaids stamp set. I stamped the mermaid with Tuxedo Black Memento ink and colored her with Stampin' Blends. After she was colored, I fussy cut her out and layered her into the mix of shells and seaweed.
To finish out this card, I added a sentiment stamped on Fresh Freesia and some of the Pastel Pearls. The message says "you are unique and completely amazing". I think that fits this beautiful mermaid card. Now let's talk about the tag!
This little pirate is just so stinkin cute! I started by die cutting several tags in different colors that matched my card. For the largest tag from the Tailor Made Tags dies, I used Basic White as the base and stamped seaweed in Soft Succulent. The next layer is cut from Soft Succulent and has some of the start fish added to the layer. The next tag is cut from Fresh Freesia and has the little treasure chests stamped on it. The top tag is cut from Basic White and stamped with a starfish in Sahara Sand. The "happy birthday" is stamped in Fresh Freesia (it's in the Art Gallery stamp set). I stamped the pirate in Tuxedo Black Memento ink and colored him with Stampin' Blends. I also stamped the phrase "ahoy there, matey" in Soft Succulent.
Don't forget to check out the rest of the amazing projects being shared in our hop (list below). Don't forget to tag me(#alittlekinderstamps) in your social media posts so I can see your projects that were inspired by todays hop!
Products Used:
Product List
Are you in the United States? I would LOVE to be your Stampin'Up! Demonstrator!
If you are in the United States and not currently working with a Stampin' Up! Demonstrator, you can order supplies in my online store, here.