Hey Y'all!
This morning was so much cooler, I almost believed that Fall had arrived. But I've lived in Arkansas most of my life and I know better. For today I will believe that fall is here. LOL And with the fall season comes so many wonderful things… pumpkin everything, beautiful colors, and inspiring new Tim Holtz seasonal products!
My favorite of those new seasonal products is the Mica Spray Stain. There are so many things that you can do with this shimmery goodness! Over the next week I am going to share some of my favorite ways to use Mica Spray Stains.  Let's start by answering some questions about spray stains in general and what makes the mica spray stain different.
First spray stains are water reactive inks that come in a concentration that is meant to be sprayed. It is NOT the same as a re-inker. This liquid is not as concentrated and the color isn't diluted like if you added water to a re-inker and sprayed it. In the Tim Holtz line there are 3 kinds of sprays- regular distress, oxide distress, and mica spray. If you are familiar with the Distress line you know both Distress Ink and Oxide Distress inks and how they "react" when used. The spray is similar with the Oxide Spray Stain giving that oxidized look. Something to note, Oxide Spray dominates so using it first might not give the results that you want.
So what's so special about Mica Spray Stains? It's the shimmer and the way that Ranger and Tim Holtz created the color combinations. The mica is the part that makes the spray shimmer. Here is where these sprays are so different. It's the color combinations. The "liquid" color has a coordinating mica color. Nothing basic here! The colors are picked to support or enhance the color. Being TOTALLY up front… my pictures will not do this product justice. You just can't get the shimmer in its full effect without seeing it in person.
Today I'm sharing the Mica Spray Stain as a background. For today I am using the smoosh and drag technique . This is where you spray some of the Mica Spray Stain on to a smooth surface (like the Glass Media Mat by Tim Holtz) and smoosh your paper into the ink while you drag it up.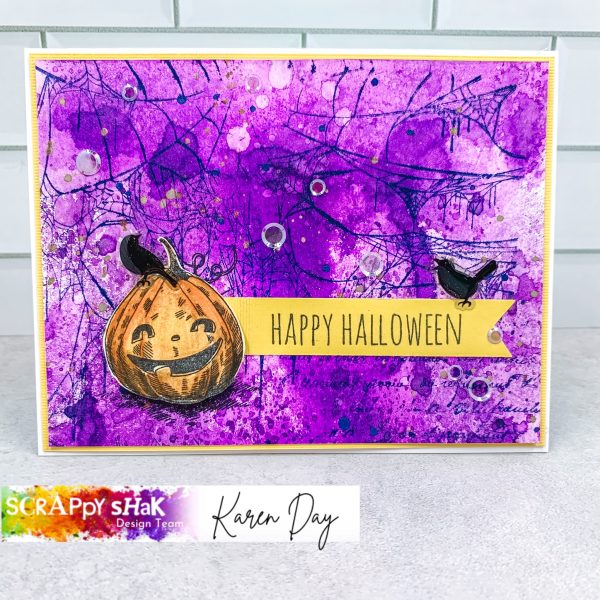 I used  Mica Distress Spray Stain in Hocus Pocus (from 2021), and Mica Spray Stain in Fortune Teller (2022 color). This gave me the depth of color that I got in the final product. I misted my Distress watercolor paper before I pulled it through the color. This helped the Spray Stains "move". The webs are stamped in Villainous Potion Distress Ink. I added a Stamper's Anonymous stamp set called Pumpkin Head, some lilac sequins, and some raven or crow looking epoxy stickers to complete this card. Here is a close up.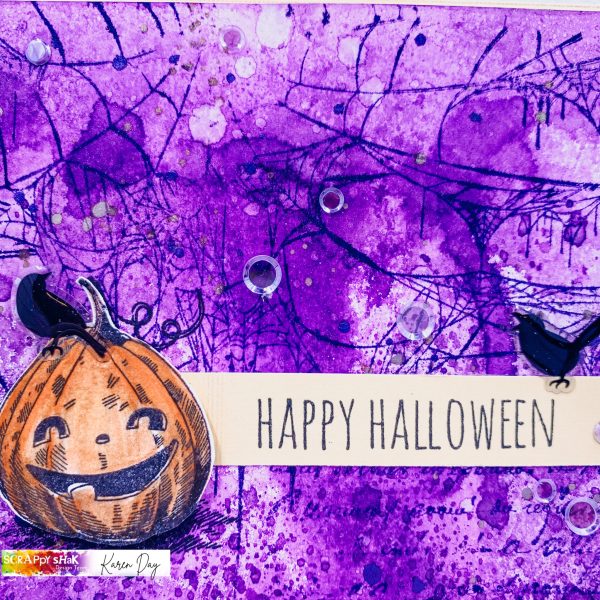 To color the pumpkin I used Stampin' Up! water color pencils. I then used dimentionals to pop up the pumpkin.  Here is a quick video about how to smoosh with the Spray Stains.
I am so excited about sharing this technique with you. I hope that you are inspired to create using this technique! I can't wait to see your projects that have been smooshed and dragged! 
Karen