I don't know about you but I am ready for some cooler weather! I'm done with the heat and humidity here. So it's not surprising that I am whipping up a bunch of fall cards in the studio. Today I am sharing one of those cards. You might have seen it on Instagram too.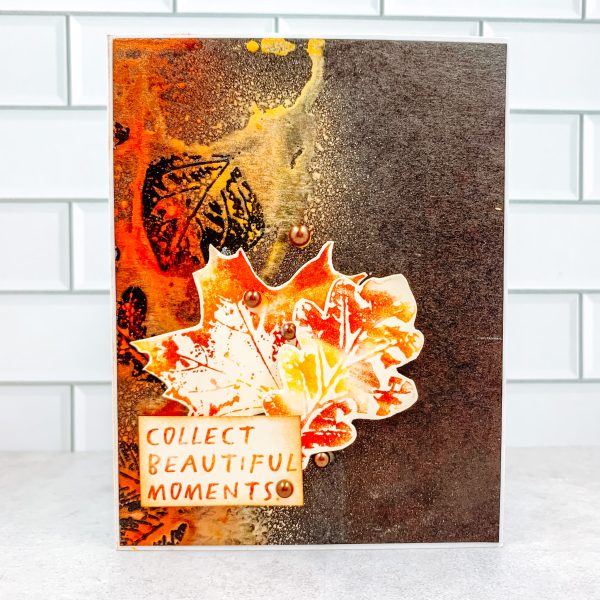 Let's talk about this card! First the background is the black paper by Tim Holtz. I love this paper. It's a kraft paper that is black on one side. It's thick and beautiful! I stamped the Leaf Prints 2 set in Versamark ink and embossed it with clear. I wanted the leaves to stay black and resist the mica spray stain. I stamped on a full sheet of the black paper so that I would be able to cut it up into several backgrounds. This one shows off the edges of the stamped and sprayed areas. Speaking of spray stain… this uses the new Halloween mica sprays. I was lucky enough to snag last years sets so I mixed in a little flickering candle from that set. But if you don't have that one, I promise you will love this years set!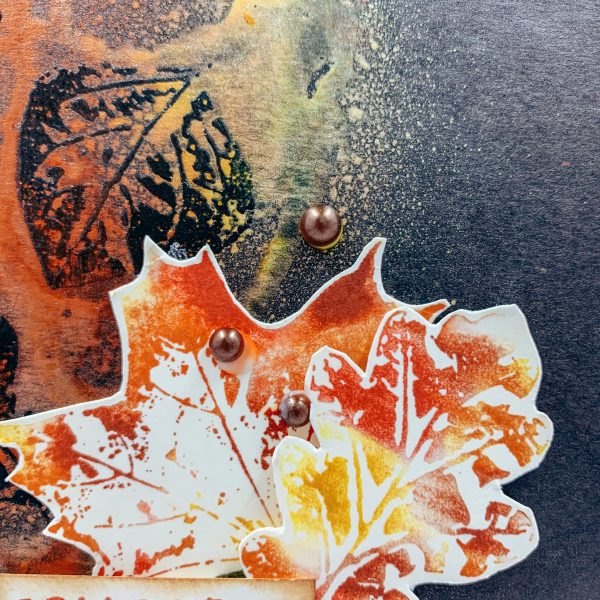 Look at how amazing the sprayed area is! And the leaf really does resist the spray, although you might need to wipe it off first. You can see all the detail in the stamps- thank you Stampers Anonymous! When you hold this card it literally glows!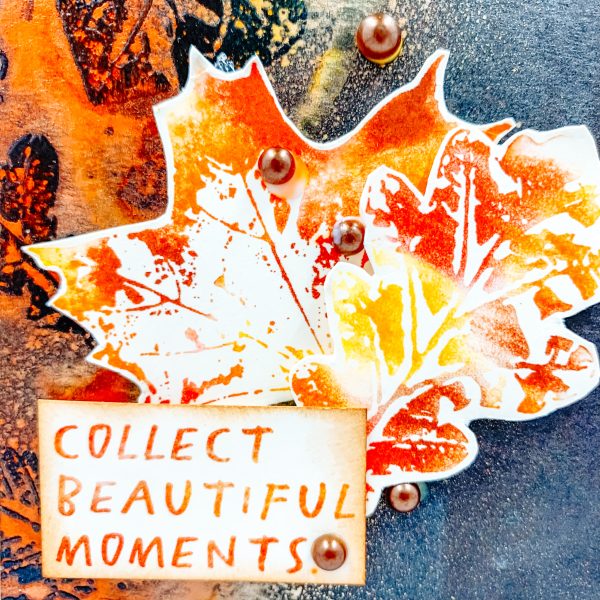 I'm working on a video to share how I stamped these leaves. It was super simple. I'll link it here when it's up. But I love how these leaves stamped. There is nothing like red rubber when it comes to making a mark that is full of detail! I did fussy cut the leaves out after I stamped them. They are layered on the card with foam squares. The finishing touch was the "collect beautiful moments" rectangle, also stamped with the same technique as the leaves. And I added a few of the Halloween droplets for a finished card.
I hope that the cooler weather and beautiful colored leaves come soon. Until then I would love to see the projects you create from this inspiration!