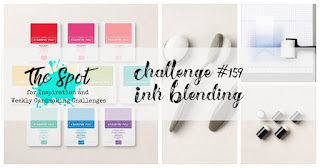 Hey y'all!
Welcome to Tuesday at The Spot! This week I am throwing down a challenge to grab your blending brushes, sponge daubers, or sponges and let's get stamping. I grabbed one of the Stampin' Up! stencils from the ___ set. I used the polka dot one for my card but this set has 4 different stencils in it. I grabbed my brand new Fresh Freesia stamp pad and a blending brush and the new Hand Penned Stamp set. This one is beautiful. I also made a process video for the card I am sharing. I'll link it at the end.
Let's take a look at today's card and then dive into the details!
This is NOT my normal style, but I love how this card turned out! I used the blending brushes and one of the stencils (the polka dot one). I used Fresh Freesia ink for my blending and then stamped the largest image in the Hand Penned Petals randomly on the front of the card.
Details for today's card
I used the new tag dies (Tailored Made Tags), the new Hand Penned Petals stamp set, Fresh Freesia (new In Color) paper, Stampin' Blends, and ink, Soft Succulent (new In Color) paper and Stampin Blends, and Evening Evergreen (new In Color) paper.
I loved making this card. It was fun to break out of my "normal". Now that you have some inspiration, I challenge you to make a card or project using a blending technique and post it over at The Spot!
Are you in the United States? I would LOVE to be your Stampin'Up! Demonstrator!
If you are in the United States and not currently working with a Stampin' Up! Demonstrator, you can order supplies in my online store, here. Y'all! There is a new signing up bonus that happens in May…. $155 in product for only $99! Ask me for details!