Hey Y'all!! I am continuing the Beyond Easter series again today. This card is one that I wasn't sure if I wanted to share or not. But the artist in my won out, so here it is.
A little about this card. Tim Holtz talks a lot about just making. That is don't sit down with a finished product in mind but rather sit down to work with a set of products. And that is exactly how this card happened. I hit a dry spell… you know artist block. UGH! I hate it! I knew I wanted to create because it speaks to me. So I picked up my Distress Oxide inks, sprays, and blending brushes and went to work. That specific day I made a STACK of backgrounds. Not all of them I loved but I know enough to know that if I don't love it today that it might be just what I need tomorrow. So into the box it went.
Then I got this stamp set from Simon Says Stamps and I wanted to make a card. Just something quick and simple that I could use for many different occasions. Out came the background box and the rest is history.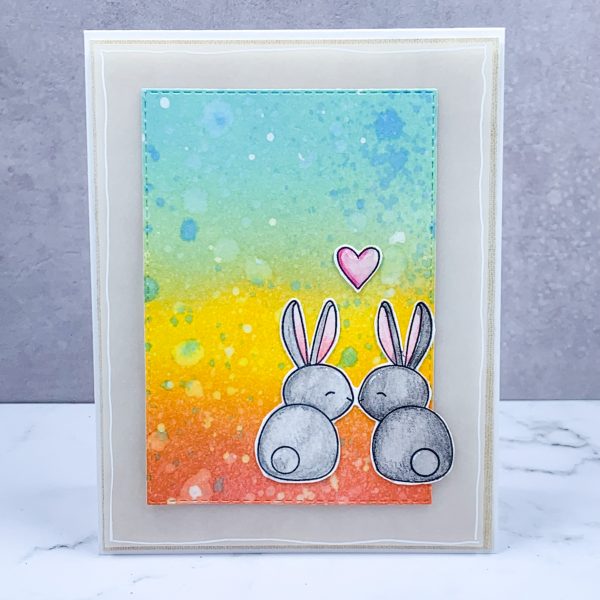 Background: Ink Blended  Distress Oxide Inks, Vellum, Craft Cardstock
Stamps: Hoppy Days Ahead (Simon Says Stamps)
Other: Stampin' Up! rectangle die, White gel pen
Even though I don't exactly love the background, I do think this is a sweet card that will be perfect to send to someone I care about. What I do love is how the background reminds me of some of the stunning sunsets we saw while in Mexico. I can't begin to tell you how inspiring that trip was! I took so many inspiration pictures that I keep coming back to over and over. And I'm counting down the days until I get to go back. Y'all I'm not kidding, I can be packed in an hour! LOL!
Thank you for visiting and checking out this card. I hope that you are inspired to create!
Karen