Hey y'all!!
What's cuter than a baby bunny on a baby card? How about a lamb? This card draws inspiration from the other cards I shared this week. I love the bold text of these cards. And I carried that through all of my Beyond Easter Series cards.
I think this one might be my favorite of them all. But this one gave me the most trouble in creating! LOL… it was crazy frustrating. I love this paper pad by Simple Stories. It was originally part of their Valentine's release. And yes some of the papers really screamed Valentines but this rose print reminded me of vintage florals from baby clothes. The lamb is a Stampin' Up! stamp, as are the letters, but the sentiment is from MFT Stamps.
I love a good layered flag sentiment. This one has 3 flags and I used the Stampin' Up! punch to make the flag ends.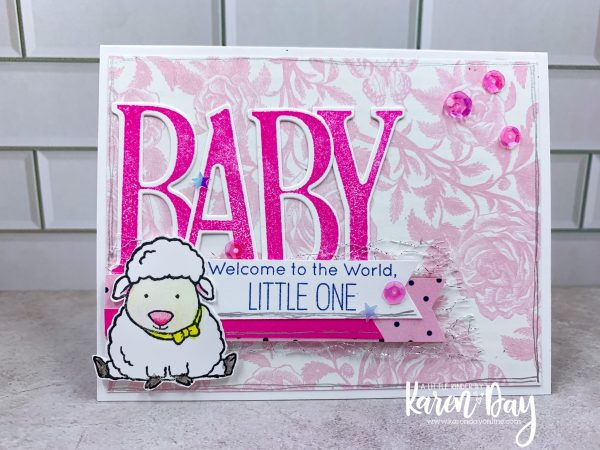 Background: Simple Stories
Stamps: Letters and Lamb (Stampin' Up!), greeting (MFT- I'll Love you Forever)
Inks: Distress Ink (Picked Raspberry and Blueprint Sketch), Extreme Black Hybrid Ink (MFT)
Other: mesh ribbon, sequins
Thank you for coming by and checking out the last of the Beyond Easter Series. It's been fun sharing all these ideas of how to extend your Easter stash of stamps!
Karen