Hey y'all!
Happy Tuesday. Today I'm sharing a card I made for this week's challenge over at The Spot. This week we are throwing down a color challenge.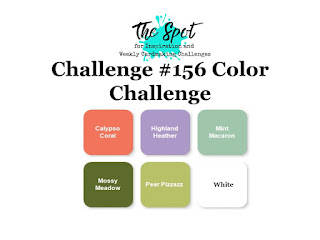 These colors scream spring! I love the different shades of green with the brightness of Calypso Coral and the softness of Highland Heather. Let's look at my card.
I have a card base of Highland Heather. I used Highland Heather with a stencil to create the circle background. Then I layered pattern papers from the Flowering Cactus Product Medley. I also used the embellishments from the product medley.
Details for today's card
Today's card is a side folding standard card. The square that creates my focal area is 3.75″x3.75″ and is cut from paper in the Flowering Cactus Product Medley. I used a 1″ strip of black and white pattern paper to create a banner that goes across the card and grounds the sentiment. The stamp set is retiring at the end of the month but is honestly one of my favorites!! It's the million dollar set that Ronda Wade inspired. I used the faith bigger than fear message on the outside and you got this on the inside. The finishing touches are the felt flowers from the Flowering Cactus product medley.
I hope that you will play along this week. This really is a fun color combination! Click on the image below to see what the rest of the team created!
Are you in the United States? I would LOVE to be your Stampin'Up! Demonstrator!
If you are in the United States and not currently working with a Stampin' Up! Demonstrator, you can order supplies in my online store, here.