Hey y'all!
Today I'm sharing a new make. I can honestly say that I am getting faster and gaining confidence in my 3D makes. I started in the craft world as a scrapbook and mini album maker. I still love my books but they are mostly digital and use the project life app. Now my paper crafting is mostly cards with tags and gift-y things thrown in. But I'm really getting into making these vignette type makes.
I started today's make with a curio clock by Tim Holtz. The halloween clock is shiny black with a silver ring. I'm going to put my one frustation out here; I wish these came with a template so that you aren't guessing at the size. That said, I was able to find work arounds for this issue with both of my recent makes.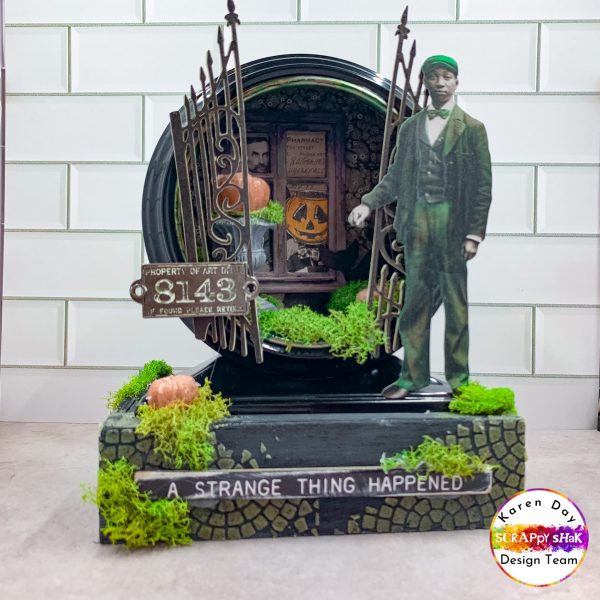 Here is the over all shot. There are a lot of details in this piece but let's start with the story. I've said it before but I love to make up stories about the paper doll characters. The fella upfront has always had the Haunted Mansion vibe to me. He reminds me of the guy at the gate right before you enter the grave yard… ya' know with the super skinny dog? Anyway, I see him as a guy who seems to walk into situations that the rest of us do not. So in my story he's out walking and happens upon this partially open gate. Inside is a little cottage surrounded by pumpkins. What he has stumbled upon is not normal as the owner turns children in to "JACKS" as in jack-o-lanters. Which we see in the window.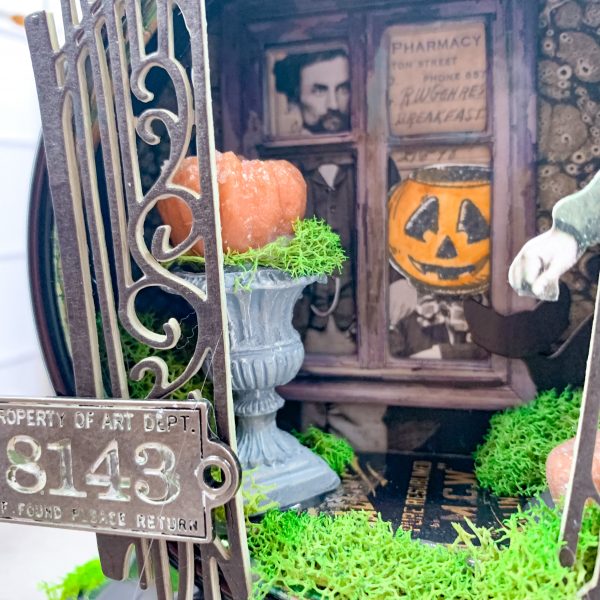 I used Tim Holtz Ideaology products for this make. Most are part of the Halloween release this year. The moss is from Joanne's or Michaels. Honestly don't remember which one. LOL Let's talke about this gate for a minute. I didn't have the metal gate pieces but I do have the gate die so I die cut 4 layers- 3 in craft and one in black. I glued these together and made my own gate. I think the possiblities are endless with this die. That top layer could have been die cut from a layer that had been distressed to look grungy or eroded. There is a little detail piece that I left off. I didn't feel that this gate needed it. I added a little black cat that I thought looked like it was looking into the window. And it's tail is up… almost like it is scared.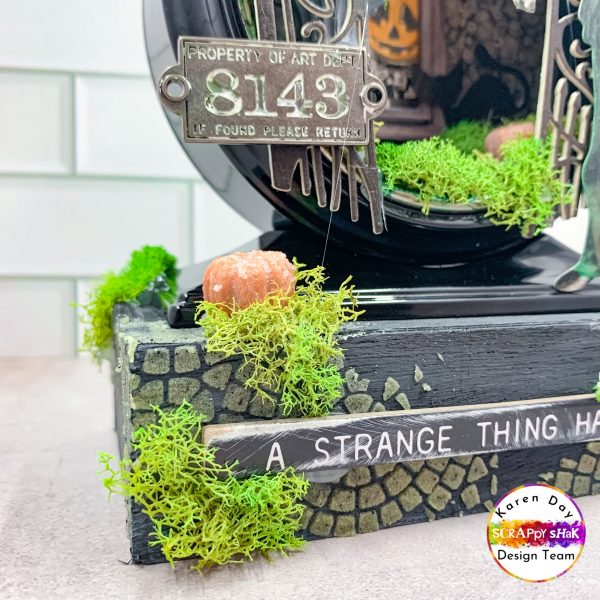 The Halloween Curio clock sits on a vignette box that I cut down and then painted. I used the Tim Holtz Distress acrylic paint for this. I love how it reacts to water. After I painted the vignette box I added some of the Crypt Grit Paste through a stencil to give a cobble or tiled feel that had partially eroded away. Then a baseboard was added with the words "A Strage Thing Happened" and a little more moss. Do you see the dew on the pumpkin? That was created with Snowfall Grit paste– it's not just for Christmas people!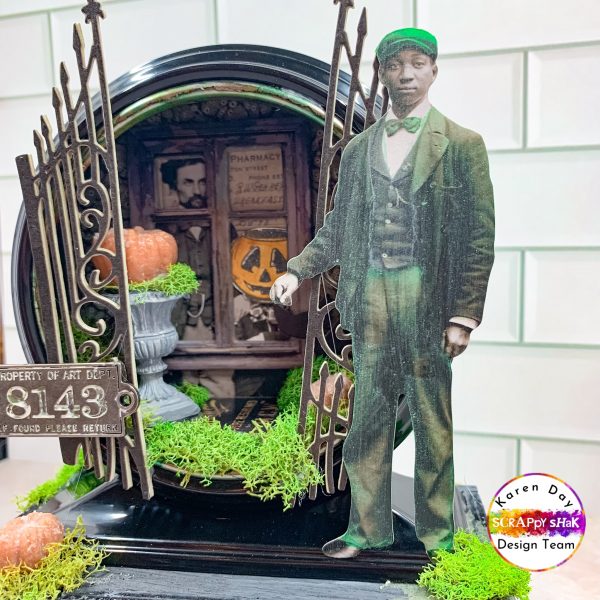 I made a video walk through of this make and explained my process. I've attached that below. I hope that you are loving these Halloween makes. I have a couple more up my sleeve that I hope to get finished. For now this make and the coffin are proudly displayed with my Halloween decorations for the year.
I hope that you have been inspired to create a vignette with the Halloween Curio Clock! If I can get my hands on another one I already have plans for it!!