Hello Friends!
Thank you for popping over to the blog to check out the newest card. Today I'm talking about texture, and getting really honest about it! Have you seen some of the AMAZING makes that Tim Holtz's team makes? They blow my mind! I could look at them for hours picking out this product or that. But my love affair ended there… well it used to.
Let me explain. I love how in just about every demo video Tim does he talks about just making. He will pull out some #8 tags or card fronts and just "do stuff". Then he stacks those up at the end and places them in a box. Ok pause! Think about that for a minute. Yes there are times I walk in, sit down, and create a card that is in my mind. Something that came together in concept before I ever picked up a supply. Other times I'm in spired by something, like today's card.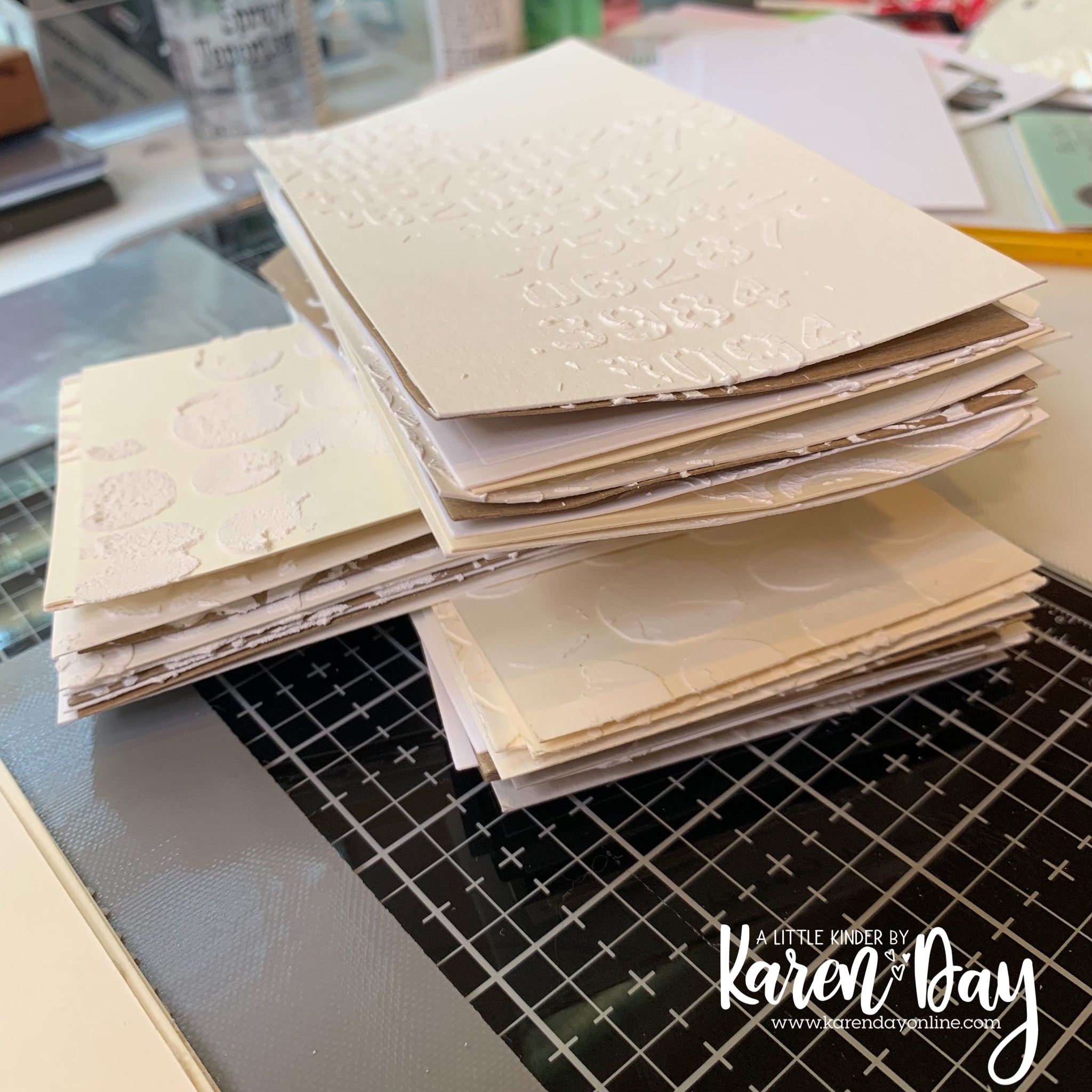 I have started making stacks of "stuff". I will sit down with a stack of #8 tags and some jars of paste and just mash stuff through a stencil. Other days I'll grab watercolor paints or sprays and just ink smoosh or spray away. I'm not sure I've ever done this type of crafting before… just doing without a finished project in mind. But it is really making me happy right now! Of course I have several stacks of "stuff" waiting for it's day to become a card. Here is why I'm loving this… first the mess. I'm keeping messy steps together, for the most part. I tend to loose my creativity when I have to stop and clean stencils and it's not a great idea to leave the paste on them. Secondly the process of a completed card is much shorter. It's like I have all these pattern papers ready to go, but they are things I created and usually are full of texture! And my last reason is that I don't have to keep my pets away from the drying process. I don't tend to speed up the drying with a heat tool. I let nature do it's thing. But the 4 legged babies don't like that they can't come in during that time. By having sessions to create textured stuff I am able to have them in my studio more. It's a win in my book.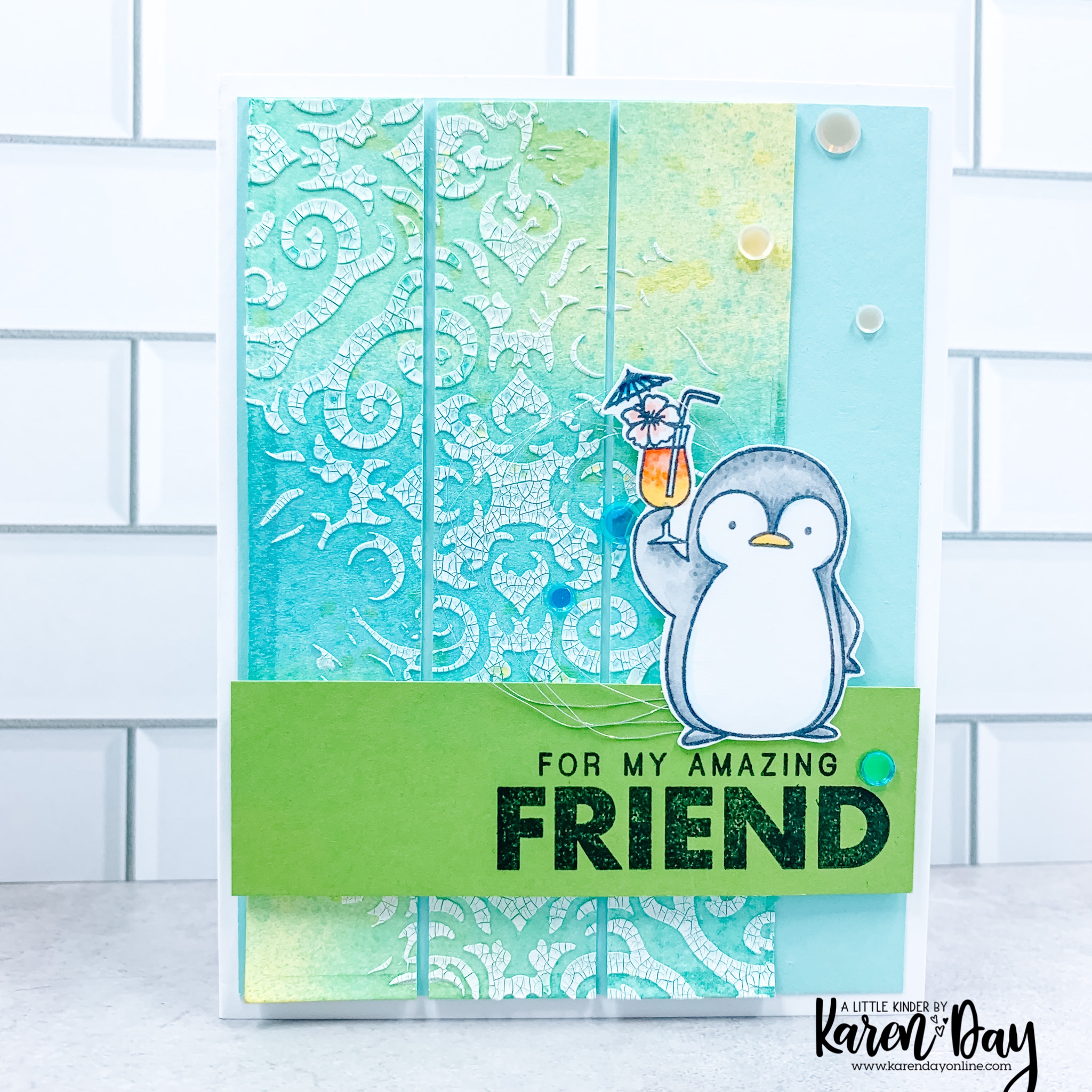 Here is today's project. I think it's so cute!!! The 3 strips started as a #8 tag that I die cut from Distress White Heavy stock. I used opaque crackle paste and sprays.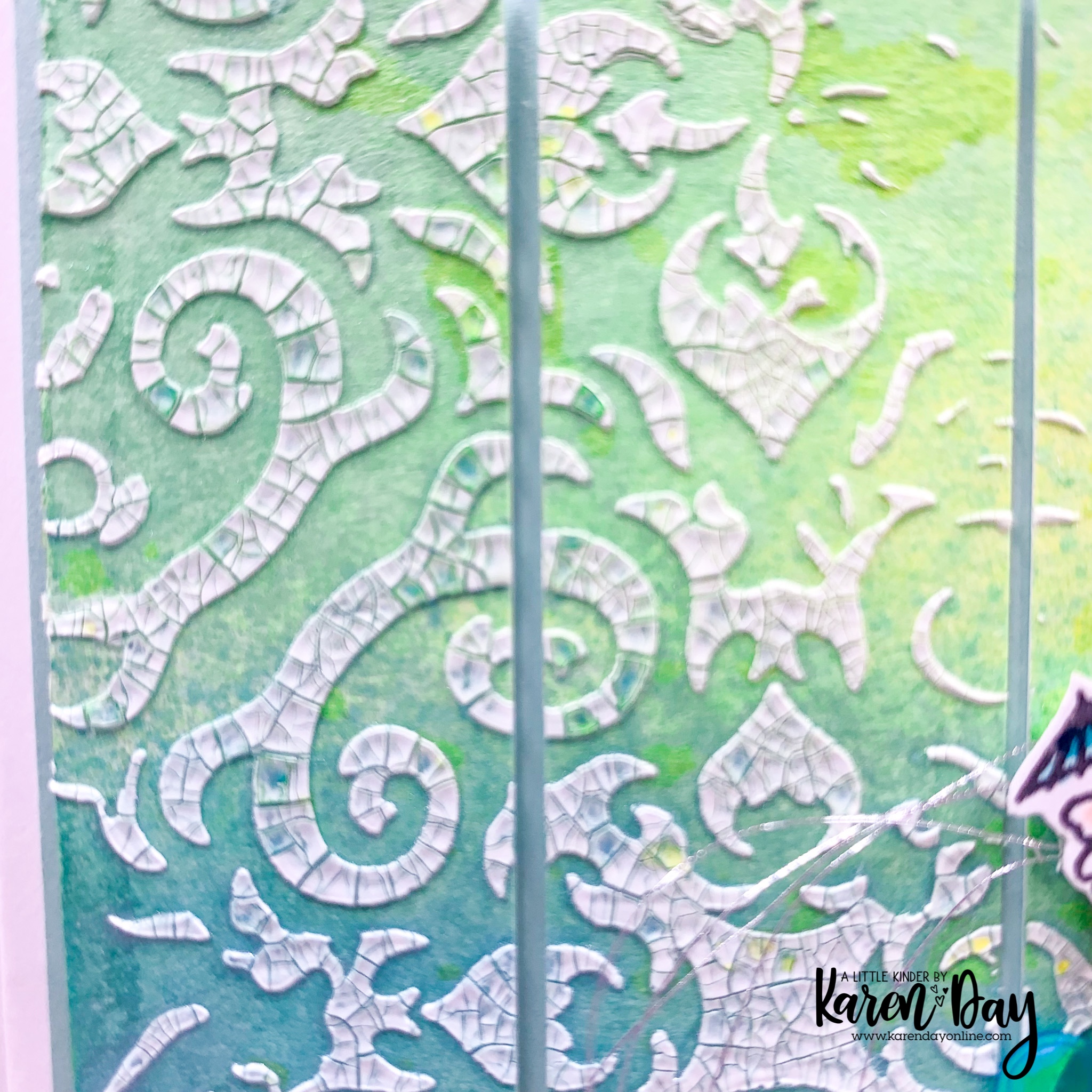 When i started it was white paste on white paper. Look at all the color that has seeped into the cracks!! I've found that with some of the crackle spaces that the spray will "run" between the cracks and make the most amazing spaces.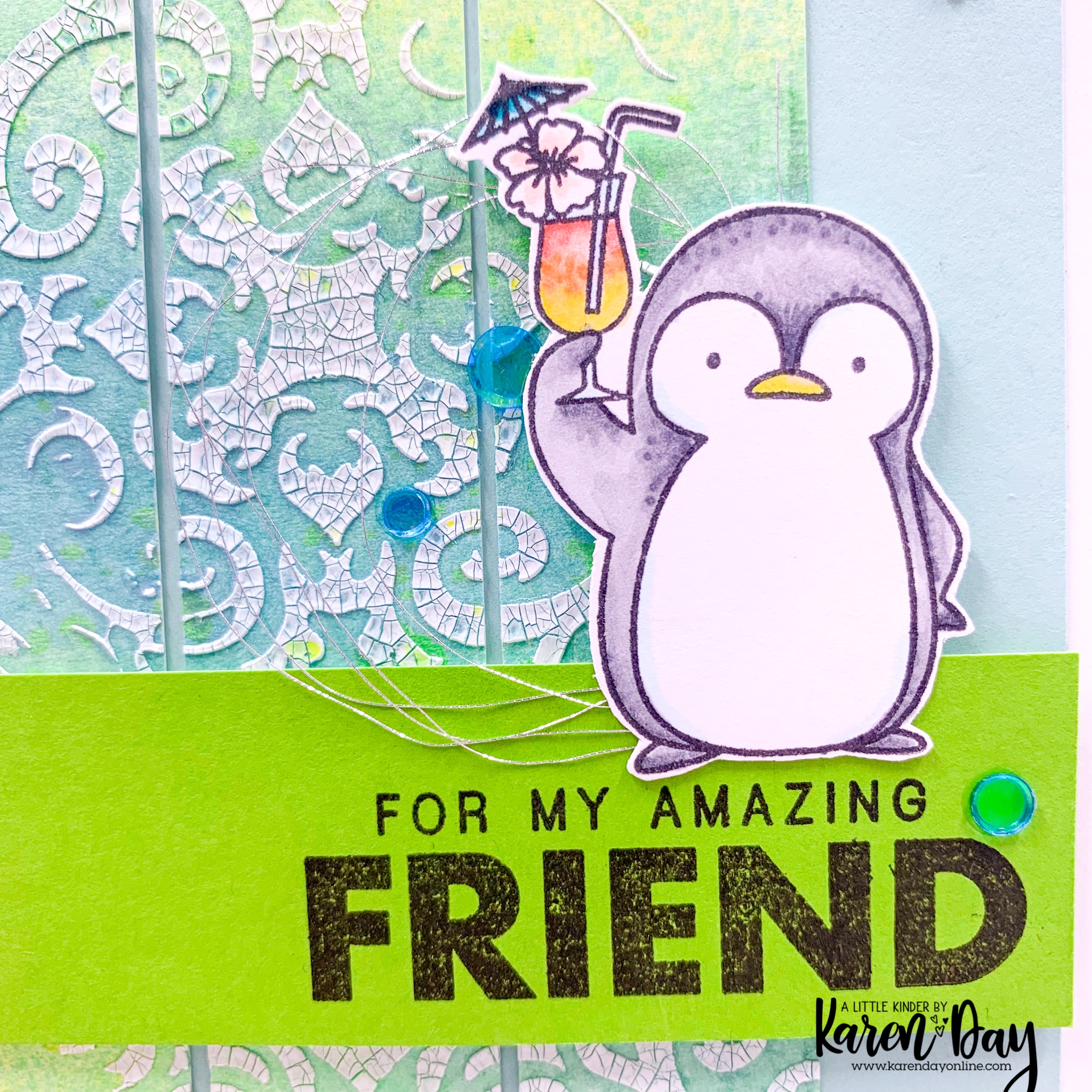 I've colored this little penguin before with copics. I love the cool grays for him. I did intentionally stay at the light end of the spectrum. I pulled out the Grannie Apple Green cardstock from Stampin' Up! for the cross piece with my sentiment on it. Add some metallic thread and sequins and call it a day. I love this card.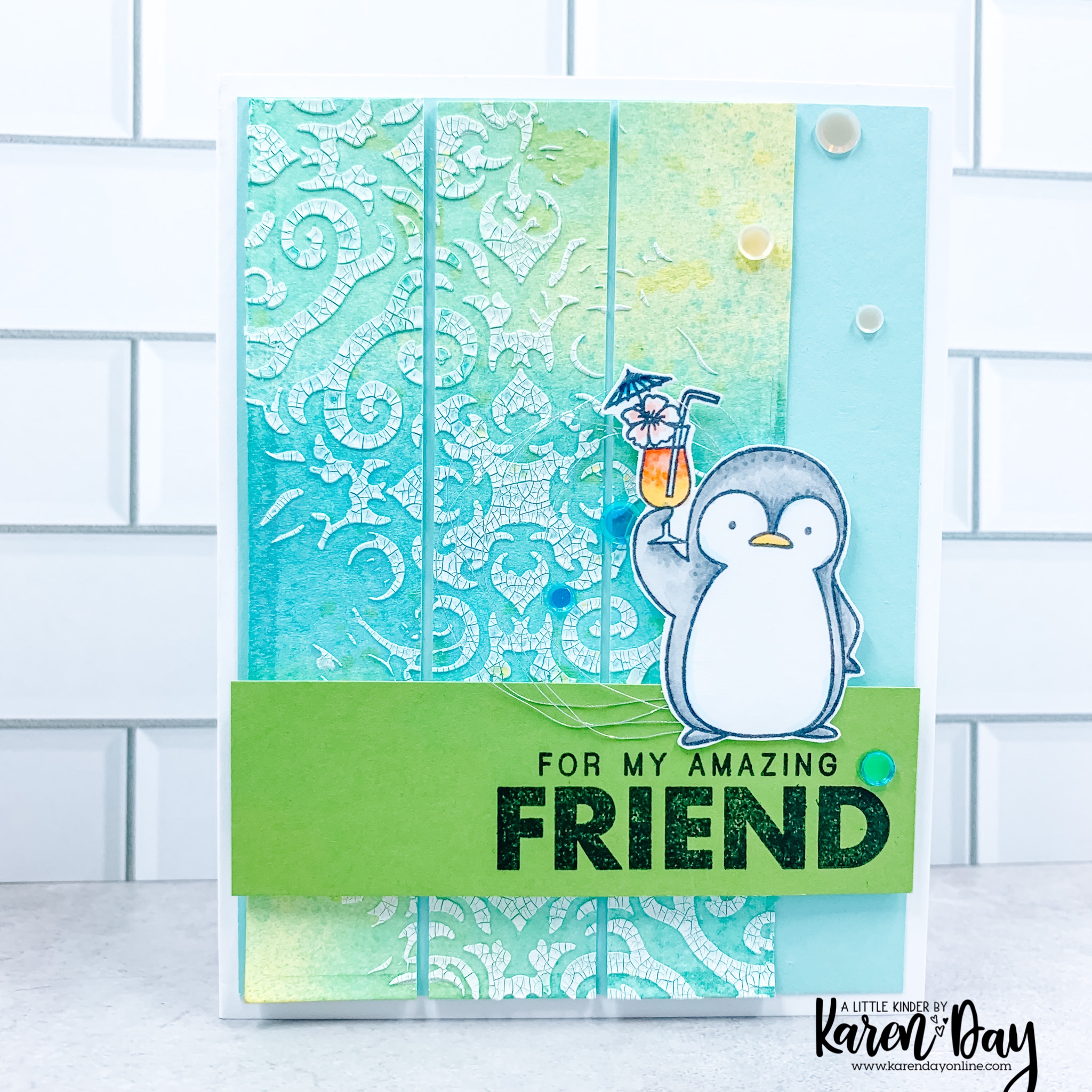 Card Details:
Card base: A2 side fold Accent Opaque White 120lb card base
Layers: Stampin'Up! card stock (Pool Party, Grannie Apple Green), Distress White Heavy Stock (cut to a #8 tag)
Other: Distress Crackle paste (opaque), Stampers Anonymous Stencil (Tim Holtz), metallic thread (silver), Sequins, MFT Stamps (Penguin), Simon Says Stamps (greeting stamp)
Thanks for stopping by! I hope that you create something today!
Karen