Hey friend!
I am so excited that today is here! It's the beginning of my personal challenge to use up my Halloween stash! LOL! My Christmas supplies have started to arrive and y'all I want to play with them SOOOO much! I feel like I'm living The Nightmare Before Christmas right now… it's Halloween making season but Christmas is calling my name. So here is what I decided. Between now and October 31 I am using a list of 13 inspiration Halloween-ish words or phrases to make 13 tags. As a bonus I am going to share them with you! My instagram and youtube channels will also show the tags or videos of the tags. I would love to see you play too! I'm going to use #13tagsofhalloween when I share on social… I hope to see your creations there too!
What are the 13 words or phrases?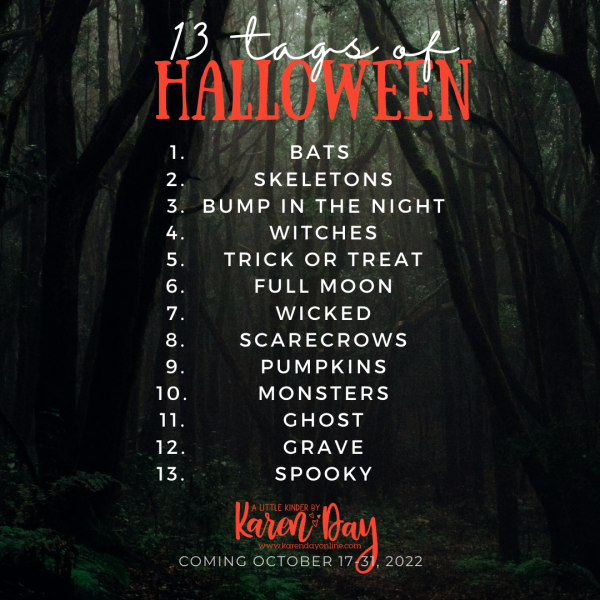 I didn't want to be super specific or limiting. When I brainstorming the list I had way more than 13 words. Maybe some of those will also pop up as bonuses! Like this tag….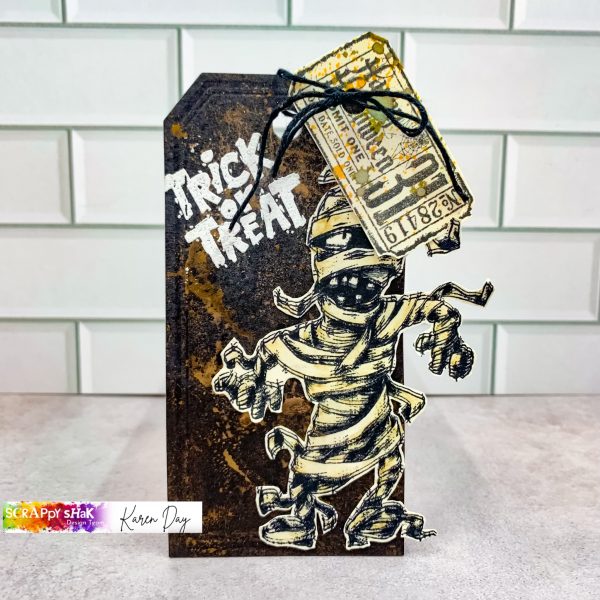 This tag uses Stampers Anonymous set called Unraveled. I stamped the Mummy using Distress Archival Ink in Black Soot. Then I watercolored with the Frayed Burlap Distress Watercolor pencil. The tag itself is from the new Sizzix die set called Framed Tags. This is the medium tag. I used the black Distress kraft paper and Halloween Mica Spray Stain set 4 in Decay for my tag background. The ticket is one of the Stampers Anonymous sets from WAY back. I added Mica spray stains to it too. I attached it to my tag base with some bakers twine. The word trick or treat is from one of the Joanna's Tim Holtz stamp sets. All in all I liked this tag and how it turned out. It was going to be my tag #5 but as I was working I came up with some thing I like better. So this guy became a bonus tag… Let's take a closers look…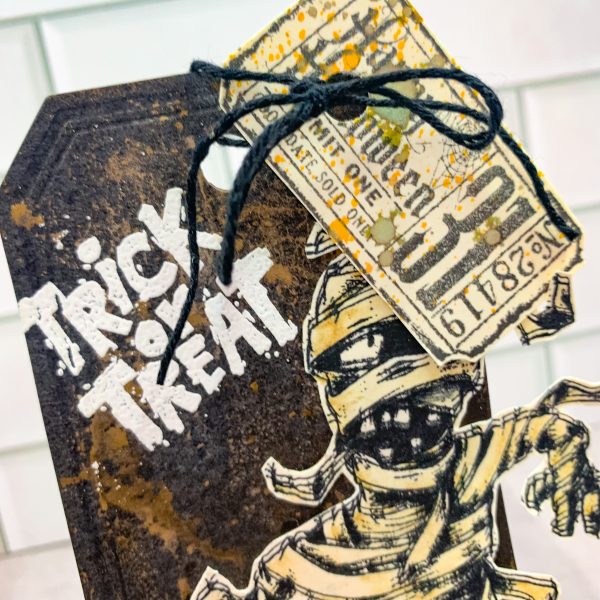 Lots of goodness happening right there!!! So there you have it… the plan is in place. Now comes the execution of said plan. This is where I tend to loose steam but you'll help me with that right??? I can't wait to share tag #1 with you tomorrow. You are going to LOVE it!!